It goes without saying that all children should be able to take part in the education provided in school, however that is not always the case. The abolishment of school fees for elementary schools in 2016 resulted in a large increase in number of students, which put additional pressure on the schools in the country. Songembele Primary School is one of the schools which was severely affected in regards to e.g. school material. Four students shared one textbook, which made it hard to study well and to do the required homework. Thus, many students got behind in school. Education is vital in order to give children the best conditions possible for their future. Additional textbooks help thrive students education. Last time we helped Songambele Primary School with textbooks, Augustino, the headmaster, could see a positive impact on the children's study results. The students could borrow a textbook each in all subjects and therefore also study at home, which affected the students' education significantly.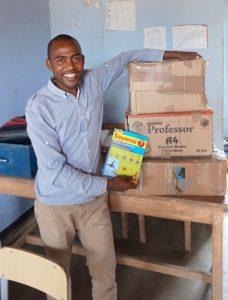 When the schools open up again after the break, they are in need of additional textbooks and material to the new students. Unite 2 Learn has put together a school package for only 50 SEK, which includes a textbook, two writing pads, five pens, a pencil sharpener and two erasers. Join us and help start the new semester in the best way by making a donation here!
We wish you a great Summer and thank you for your commitment to children's rights!